Who does the boss turn to for help in overcoming work-related challenges? Most business leaders would be open to working on their leadership skills with a professional coach, according to a recent Stanford University survey of top executives.
Conflict management, team building, mentoring and delegation are among the top areas in which executives are working with coaches.  Here is a graph of some common coaching subjects, as posted on the HBR Blog Network: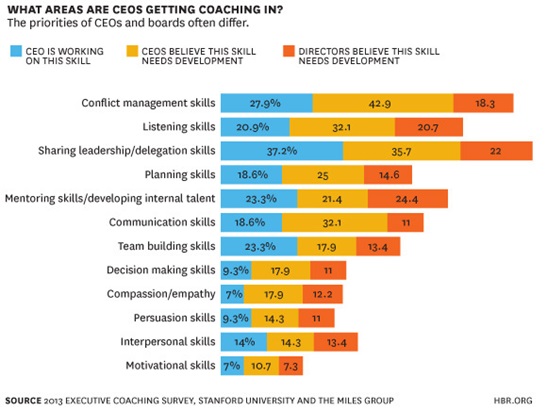 The biggest area of concern for CEOs: four in ten in the Stanford study believe they need to learn how to handle conflict better. As an executive coach, I find that leaders may be more likely to have blind spots when it comes to softer skills like navigating conflict. When they get together with a coach, they have a confidential space in which they can work on how they manage disagreements as well as the politics around them.
The biggest gap revealed by the survey: one third of CEOs say their listening and communication skills need developing, yet only two out of ten are actually working on this skill. Many of my executive clients have seen better relations with their teams by becoming more intentional about how they communicate. This is an area in which executives can usually make some quick wins.
The skill that business leaders are most likely to be working on: delegation of tasks. These days, people at all levels of an organization are being asked to do more, making the issue of who does what a top priority.
A theme in the survey that some may find surprising is the willingness of leaders to receive feedback. Yes, it can be 'lonely at the top' as the saying goes, but senior executives are recognizing that they have room for growth and that they can benefit from the outside perspective of someone like a coach.